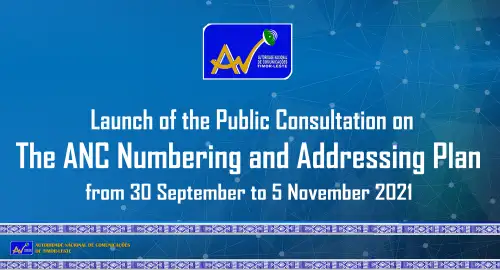 Press Release
Dili, 30.09.2021 – The ANC has issued the Consultation Paper on the ANC Numbering and Addressing Plan for developing a unified numbering and addressing plan for telephone numbers and electronic addresses.
Timor-Leste currently has 3 mobile service providers and 1 fixed-line service provider. The current Numbering Plan in use allocates 6 million phone numbers to mobile services and 3 million phone numbers to fixed-line services. Those 3 million fixed-line numbers are further divided into 3 regions: the Eastern region, the Central region and the Western region. Each region was allocated 1 million phone numbers. Of the 3 million fixed-line numbers, less than 3,000 numbers are in use.
Meanwhile, the telecommunications sector is undergoing a fast transformation underpinned by rapid advances in information and communications technology. New technology has made possible better services at cheaper prices. Attesting to this trend, the old public phone system is gradually being phased-out, service providers are increasingly offering wireless and ubiquitous services to customers  that can work on many devices in wherever places that are covered by their networks. So, it is no surprise that 99% of our customers are using wireless services currently served by GSM, 3G and 4G networks.
Consequently, to prepare Timor-Leste for new telecommunication services of the next decade where 5G and other newer networks are expected to bring us new services and applications such as smart cars, smart homes and the Internet of Things; the ANC launches this public consultation to seek comments and inputs on a number of proposals to improve the organization of our telephone numbers and electronic addresses.
For telephone numbers, this consultation proposes to adopt only one numbering area nationwide and that the geographic areas of eastern, central and western are no longer used. All phone numbers i.e. fixed-line, mobile, and IP telephony services will share the same numbering plan, which is a uniform 8-digit numbering plan. The consultation paper also proposes to refine short codes like 110, 119, 121500, etc. based on the nature of service provided by the short codes.
On the electronic addressing side, this consultation proposes to regulate the use of Internet Protocol (IP) address numbers and the Autonomous System (AS) numbers in Timor-Leste. The consultation paper also proposes to regulate how the .TL domain addresses may be further structured and assigned.
The Consultation Paper has been released on the ANC's website. Written comments on the Consultation Paper are invited from the stakeholders by 05 November 2021.
Eng. João Olívio Freitas
Chairman